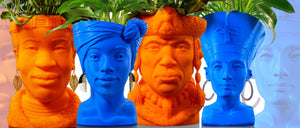 New - Blue / Orange Colors
Enhance your space
New - Blue / ORange
ALLURING DESIGNS
Welcome to Rooted Pots
Rooted Pots are more than just a flower pot, they're a tribute to the natural roots of our hair, culture, and history. These stunning Afrocentric planters bring black representation through horticulture and art. Each purchase is a unique collaborative art piece between you and the creator, Yinka Alade.
As he creates the Rooted Pots, you finish the artistic piece by selecting the size, color, and upon arrival to your door which plants to adorn your Rooted Pots with! The ability to decorate your Rooted Pots with earrings, nose rings, and necklaces expands the artistic freedom you have even more.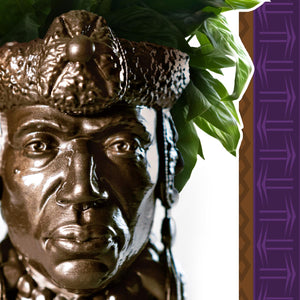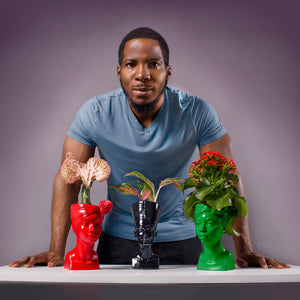 About the Artist / CEO
Yinka Alade is an award-winning Art Director that has done artwork for Disney, Dreamworks, Hasbro, Mattel, Marvel, EA, Activision, and many more.
Through his 15+year art career he has worked on properties such as Disney's Moana, Transformers, Spiderman, Madden NFL Football, Starwars, The Sims 4, and much more.
He created Rooted Pots for the main purpose of bringing some much needed color and flavor to the horticulture space. There is a large and healthy base of black plant moms and dads, but nothing out there that represents them in that space, and Rooted Pots is here to fill that void in a stylish and artistic way.

With thousands sold, it's a sign that the culture approves of Rooted Pots!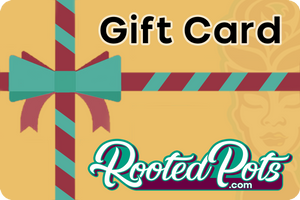 Gift Cards now available!
Shopping for someone else but not sure what to give them?

Don't think there's enough time for a Rooted Pots order to show up at your friend's door for their birthday? Anniversary? Christmas?

Give them the gift of choice immediately with a Rooted Pots gift card!

Click Here to get yours
Customers' DIY Painted Rooted Pots
Checkout some of our crazy talent customers and how they bring their Rooted Pots to life with paint!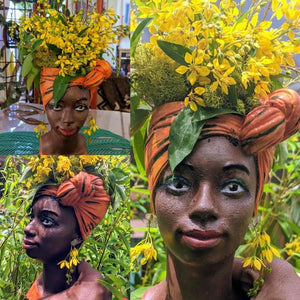 Why get a Rooted Pot?
Stylishly Decorative
Created with quality and style in mind. With multiple sizes and colors to choose from, everyone should be able to find the perfect pot for their relaxing decorative needs.
Extremely Durable
Created using eco friendly biodegradable Polylactide PLA that is environmentally friendly, sustainable, and also not as fragile as traditional terracotta and ceramics.
Uniquely Handcrafted
Sculpted using unique digital and traditional art methods by the creator, Yinka Alade. Then 3D printed out, sanded, primed, painted, and clear coated to a stunning finish all by hand.
Testimonials
Onileola bust planter = new favorite thing. I received my order earlier last week and I am in love. I just put in some marble pothos cuttings I'd been propagating. She's cuuuuute!

Stephanie
I love mine!!! It is in my office and I receive so many compliments!

DeBerry
By fay my favorite plant pot I own!

Dominique D.
I cleaned up my area right away to put this beautiful flower pot from Rooted Pots. I was so excited when she arrived... like the dad on A Christmas Story when his leg lamp arrived. BUT - this is much better! 🥰

Katia C.
Obsessed is an understatement! This is art, this is creativity, this is innovation!

Kef
Contact Us
If you have any questions, issues, or would like to give us some needed feedback, send us an email

Contact@RootedPots.com